Spooky Garden Nights
October 21 & 28, 2023
6:30–8:30 p.m. | At the Garden
Explore the Garden through a frightfully fun adventure
Fall fun is just a borough away with Spooky Garden Nights! Break out your best costume and explore the twisting trails of the Everett Children's Adventure Garden during this frightfully fun nighttime adventure. Come face-to-face with pumpkin scarecrows, discover the secretive lives of creatures of the night, and collect treats. Don't miss giant pumpkin carving with Adam Bierton; shadow puppet shows by Hit the Lights! Theater; and roaming giant skeletons created by puppeteer Lucrecia Novoa.
Advanced purchase recommended to guarantee admission; events do sell out.
Ticket Information:
Non-Member: $30
Member: $25
Nighttime Giant Pumpkin Carving
Marvel as Adam Bierton continues carving into the night. Adam Bierton is a professional sculptor and pumpkin carver based in New York, most famously known for his 3D pumpkin carvings and his season five win of the popular Food Network series Halloween Wars in 2015. Bierton has competed in several other network series and has successfully carved some of the largest pumpkins from all over the country. Learn more here.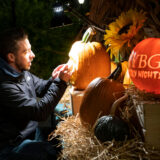 Explore Spooky Activities Down the Treat Trail
Decorate your treat bag, then take a stroll down the trail, exploring the Discover Carts to learn about creatures of the night—from owls to bats—with our teen Explainers. Learn to grind a chocolate seed and take a peek inside a pumpkin, then pot up your own bug-eating carnivorous plant to take home!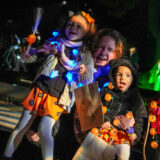 Meet Giant Skeletons on Parade
Larger-than-life skeletons specially commissioned by Bronx-based puppeteer Lucrecia Novoa are on hand to greet you during these bone-chilling evenings at the Garden. Visual artist, educator, and puppeteer Novoa is the founder and director of Mascara Viva.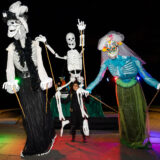 Live Shadow Puppet Performance
Fan-favorite storytellers return to the Garden! Using the magic of shadow puppetry, vintage overhead projectors, and live music, the award-winning cast of Hit the Lights! Theater Co. weaves an enchanting story of scarecrows that awaken on Halloween night.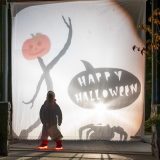 NYBG Shop
Open till 9 p.m. on October 27 & 28
Be sure to stop by the shop to pick up some treats to take home—for yourself or the garden-lover in your life!