Bar Car Nights
November 17, 23, 24, & 30;
December 1, 7, 8, 15, 21, 22, 28, & 29, 2018;
January 5 & 12, 2019
7–10:30 p.m.
All Aboard for Adults-Only Nights at the Holiday Train Show
On these nights exclusively for adults 21 and over, the wintry landscape of NYBG sets the scene for festive outdoor adventures, with an after-dark viewing of the Holiday Train Show® as the centerpiece. Purchase a drink from one of our seasonal bars and a bite to eat from the Bronx Night Market Holiday Pop-up, then set out to explore the night's offerings. Relax and warm up around the fire pits in the Leon Levy Visitor Center, watch art emerge from giant blocks of ice during live ice-sculpting demonstrations, sing along to your favorite tunes with dueling pianos in the Pine Tree Café, and listen to roving a cappella groups as they guide you through the Garden.
Non-Members $38 / Garden Members $28 (Adults 21 and over)
Advanced purchase recommended to guarantee admission; events do sell out.
When purchasing a ticket, select an entry time to enter the Conservatory to view the Holiday Train Show®.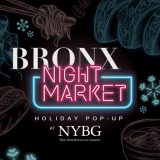 Taste the Best of the Bronx
This summer, The Bronx Night Market launched the largest food market Uptown and in the Bronx showcasing our borough's diverse food and culture.
The Bronx Night Market now joins Bar Car Nights with a special Holiday Pop-up. A rotating lineup of vendors with specialty food for purchase includes Uptown Vegan, Barbecue On A Stick, City Tamale, and more.
Participating Vendors:
November 17
Apple & Spice
Uptown Vegan
Barbecue On A Stick
City Tamale
Yunza
November 23
Apple & Spice
Kernelicious
Next Stop Vegan
Fried Kitchen
BX Burger Co
November 24
Apple & Spice
Uptown Vegan
Lotsa Latkes
City Tamale
Fried Kitchen
November 30
Kernelicious
Empanology
Little Chef, Little Kitchen
Jiberito Shack
Twisted potato
December 1
Apple & Spice
City Tamale
BBQ on a Stick
Veggie Grub
Uncle T's
December 7
Uptown Vegan
The Fried Kitchen
Twisted Potato
Rostacy Jamaican
December 8
Kernelicious
BBQ on a Stick
City Tamale
Bx Burger Co
Apple & Spice
December 15
Uncle T's
Kernelicious
Uptown Vegan
Lotsa Latkes
The Fried Kitchen
Taste Buds Required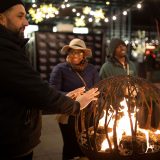 Bar Car Entertainment
Enjoy the spirit of the season with ice carving, music, and fire pits to round out your Holiday Train Show® viewing.
Giant Ice Carving
Garden Way
Marvel as an expert ice carver from Okamoto Studio NYC takes ordinary blocks of ice and transforms them into massive wintry works of art.
Illuminated Dancers & Acrobats
Visitor Center and Perennial Garden Way
Illuminated dancers and acrobats from the American Circus Theatre guide you on your stroll through the Garden's paths to the Holiday Train Show. Prepare to be dazzled and delighted by the Candy Cane Hooper, Music Box Spinner and the shining Snow Globe Dancers!
Holiday Fire Pits
Visitor Center
Grab a spiked hot chocolate and warm up at our beautifully crafted, custom-made fire pits.
Holiday Carolers
Garden Way
Strolling singers spread holiday cheer with new takes on holiday classics and pop favorites throughout the evening.
Dueling Pianos
Pine Tree Café Tent
Stop by the Pine Tree Cafe and sing along to some of your favorite songs as musicians on dueling keyboards take your requests. Fresh from Fox's "Don't Forget The Lyrics", where he remains the all-time champion, Mark Weiser brings the party to every performance with Shake Rattle & Roll Dueling Pianos!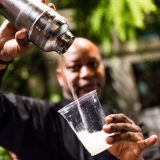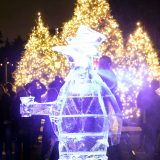 Hours & FAQs
Bar Car Nights are 7–10:30 p.m. You may enter the Conservatory to view the Holiday Train Show® at the entry time indicated on your ticket.
How to Get Here
The Garden is located at Bronx River Parkway and Fordham Road in the Bronx, and is easy to reach by car, subway, bus, and Metro-North. The last Manhattan bound Metro-North train departs at 10:37 p.m., check Metro-North's schedule for the latest information. Get directions.
Admission
Non-Member $38/Member $28.
Bar Car Nights are for adults 21 and over; make sure to bring your ID.
Plan to be Outdoors
The Holiday Train Show® is located in the Enid A. Haupt Conservatory. There is also shopping, dining, and live entertainment throughout the Visitor Center area. Most activities are outdoors; we encourage you to dress festively and for the weather!
Visitor Services Support
For assistance planning your visit, reserving tickets, or to share your feedback about a recent visit, contact the Visitor Services Ticketing Support Hotline.
Telephone: 718.817.8716, seven days a week, 10 a.m.–5 p.m.
Email: ticketingsupport@nybg.org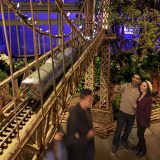 About the Holiday Train Show
Enchanting model trains zip through a display of more than 175 New York landmarks, each re-created with bark, leaves, and other natural materials—all under the twinkling glow of the Enid A. Haupt Conservatory.