Family Garden Programs
The Edible Academy's Ruth Rea Howell Family Garden provides hands-on gardening activities from April through October, encouraging the whole family to explore, learn, and grow. The Children's Gardening Program offers kids the chance to tend their very own garden. Sign up for Spring, Summer, and Fall sessions. Dig! Plant! Grow! provides families the opportunity to drop in, roll up their sleeves, and help us to sow seeds, water the plants, and harvest ripe crops. Join us every Wednesday, Saturday, and Sunday for garden fun and a diverse schedule of seasonal activities investigating culinary and garden themes. Edible Academy Fresh From the Garden Tastings, cooking demonstrations hosted at the Pine Tree Café on Wednesdays, encourage families to get hands-on with healthy cooking. With new gardening programs and special events all year round, you'll always have a reason to come back.
Children's Gardening Program
Spring session begins March 25, 2017.
Offered in the spring, summer, and fall, kids ages 3–12 plant, tend, and harvest vegetables, and are taught lessons on gardening topics from beans to worms. To learn more and to register, call 718.817.8181 or visit nybg.org/cgp

Dig! Plant! Grow!
Drop by the Family Garden every Wednesday, Saturday, and Sunday from 1:30–5:30 pm, April through October, for hands-on gardening activities, crafts, and investigations. Dig in the dirt, water the garden, sow seeds, and see what's growing. Programs help foster in children a lifelong appreciation for nature and freshly grown food. Program themes change monthly, following the crops maturing in the garden with activities to celebrate each. For program descriptions, click on the program titles below. Edible Academy Fresh From the Garden Tastings, cooking demonstrations in the Pine Tree Café, take place every Wednesday at 2 and 4 p.m. For recipes, follow the links below.
Pickle Me!
July 19–August 9, 2017
Goodnight, Garden
October 11–29, 2017
Dig! Plant! Grow! Recipes
Salad Days

May 3–June 10
Global Gardens – Spring

June 11 & 12
Scent-sational Herbs

June 14–July 17
Pickle Me!

July 19–August 12
Global Gardens – Summer

August 13 & 14
Pollinator Pals

August 16–September 11
Goodnight, Garden

October 11–30
Fashionably Late:
Spring Flowers and Foliage Are on the Way to NYBG!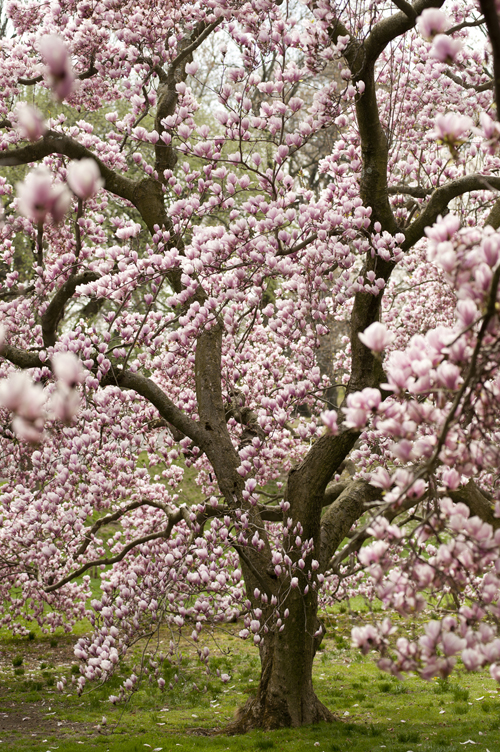 Everyone in our area is well aware that climatologists have determined that this winter brought some of the coldest temperatures ever recorded in New York. The professional horticulturists who care for The New York Botanical Garden don't need official weather data to confirm our suspicions that spring is coming later this year than it has in recent memory. All we need to do is walk through the Botanical Garden to see what our magnolias, daffodils, then flowering cherries and other spring-flowering favorites are doing at the moment. Gardeners' (and plants') internal clocks are set according to plant phenology—the timing of natural events such as flowering, fruiting, and leafing out—and all indications are that spring is overdue.
As staff members of one of the world's great scientific and educational institutions, we have access to a suite of resources we can use to confirm (or deny) our suspicions. Since 2002 Volunteer Citizen Scientists have walked regularly through the Botanical Garden and noted carefully if certain plants are flowering, fruiting, leafing out, or dropping their leaves. The data from these "phenology walks" tell us that on average over the past decade, our native red maple, which is one of the most common street trees in New York and my favorite harbinger of spring, has been in peak flower around the middle of March. As of today, the flowers on the red maples in our Native Plant Garden and Thain Family Forest are just starting to open.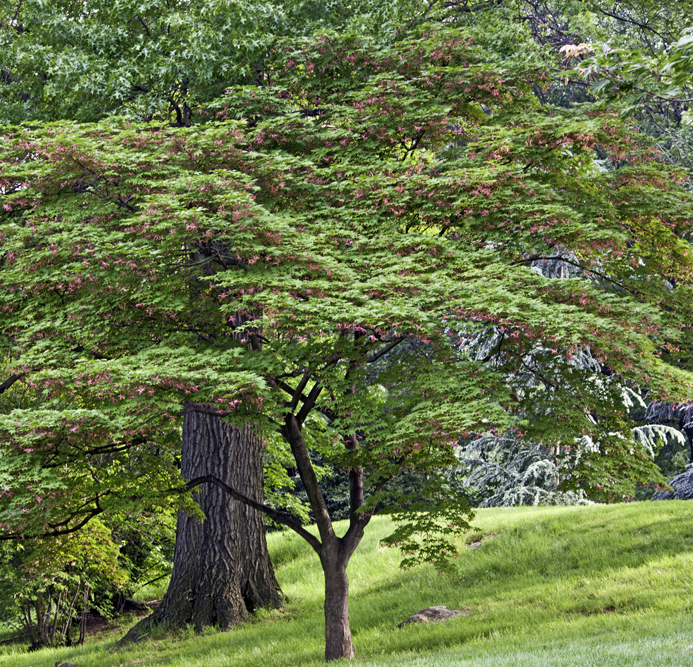 The red maples and decades of collective experience observing the plants in the Garden tell us that the normal progression of spring flowers—from magnolias, to daffodils, then cherries, crabapples, and so on—will be compressed and therefore April and early May will be even more spectacular than in a "normal" year. Temperatures in February and March were extremely cold, but the thick layer of snow protected our plants. The absence of a winter thaw may have deprived us of some respite from the cold, but it also prevented tender plants such as Japanese flowering apricot from breaking dormancy early only to be zapped when winter returned. Notwithstanding a hard April frost, we expect this will be a fantastic year for flowers.
The past few relatively warm days have been enough to entice crocus, reticulate iris, glory-of-the-snow, and other early spring bulbs in the Rock Garden to open. The Garden-wide spectacle of magnolias and flowering cherries and will soon follow.
Plan your visit to the Garden today, and experience the eruption of new life that makes spring at NYBG so magnificent. Get your tickets for this very special blooming season—we hope to see you here!
Van Gogh: Irises & Roses
Before renowned artist Vincent van Gogh left the sunlit South of France in May of 1890, he paid a final tribute to the "season when there are lots of flowers and thus color effects." He gathered ample bunches of irises and roses from the cloistered garden at the asylum of Saint-Rémy and set off for the quiet of his makeshift studio.
Working with a great economy of means—two motifs, four colors—in swift succession he painted still lifes intended to complement and enhance each other in their juxtaposition. Using two sets of complementary colors—yellow and violet, pink and green—Van Gogh contrasted the long-stemmed irises with the softly rounded roses.
Though the paintings have lost their original brilliance with the passage of time, they retain their spirited vitality. And in comparing these original works with the flowers you can find growing at The New York Botanical Garden from May through August, you can still see the muse that inspired Van Gogh's masterpieces.
Van Gogh's Irises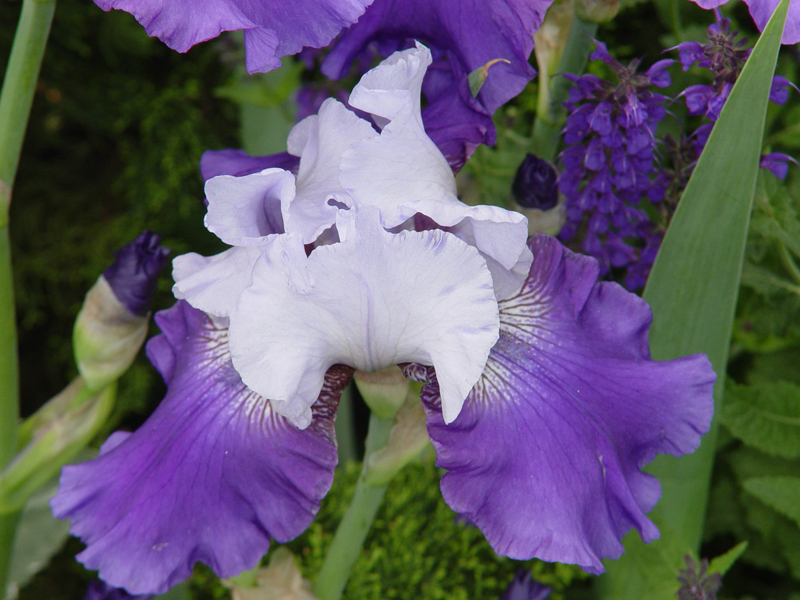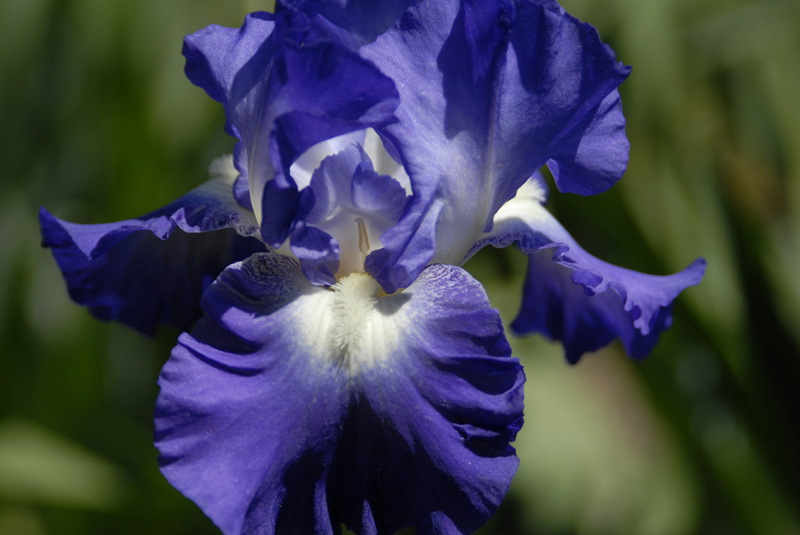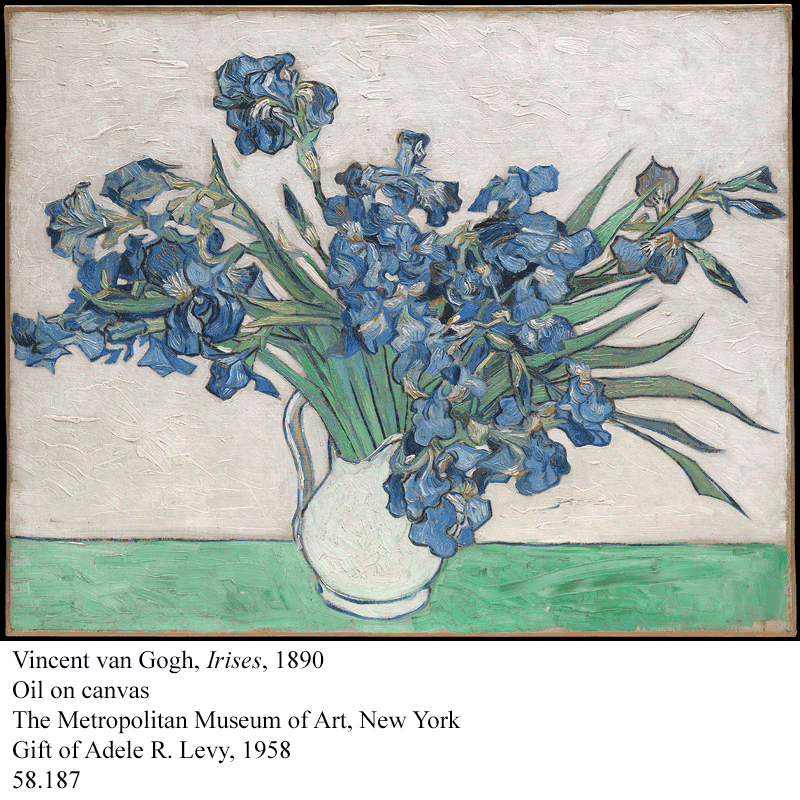 Bearded irises are classic garden plants that are named for the small appendages, or "beards" located above their downturned petals, known as falls. There are more than 40 species of bearded irises and many more cultivated varieties. Bearded irises gained popularity as garden plants in Europe in the sixteenth century. In the nineteenth century hybrid bearded irises were increasingly grown in France. These perennials would have added rich color to the landscape in Provence when they bloomed in late spring and early summer.
Irises can be grown in shades of white, yellow, pink, lavender, deep purple, and even dark red. Bicolor irises and irises with spots and other markings can also be found. This wide range of color earned the genus its name—for Iris, the Greek goddess of the rainbow. Many bearded irises also have a sweet, fruity fragrance. Dwarf varieties are well-suited to rock gardens, while taller standards are often found in the middle of deeper borders. The tall, upright, sword-like foliage remains once the flowers have faded, adding structure to the garden.
At The New York Botanical Garden, bearded irises can be found woven into several gardens including the Ladies' Border, Perennial Garden, and Rock Garden during the month of May.
Van Gogh's Roses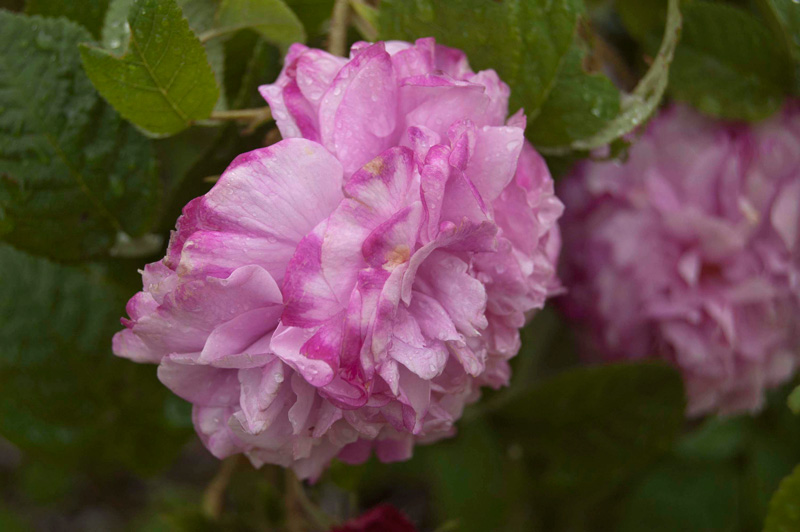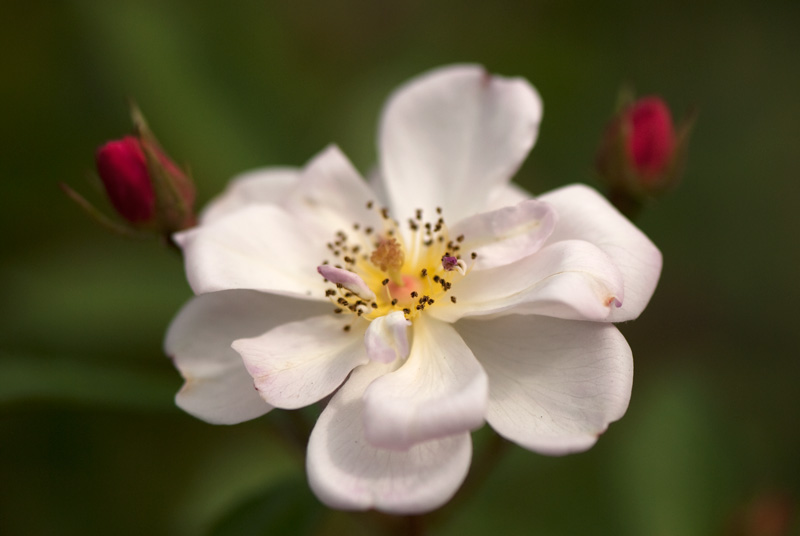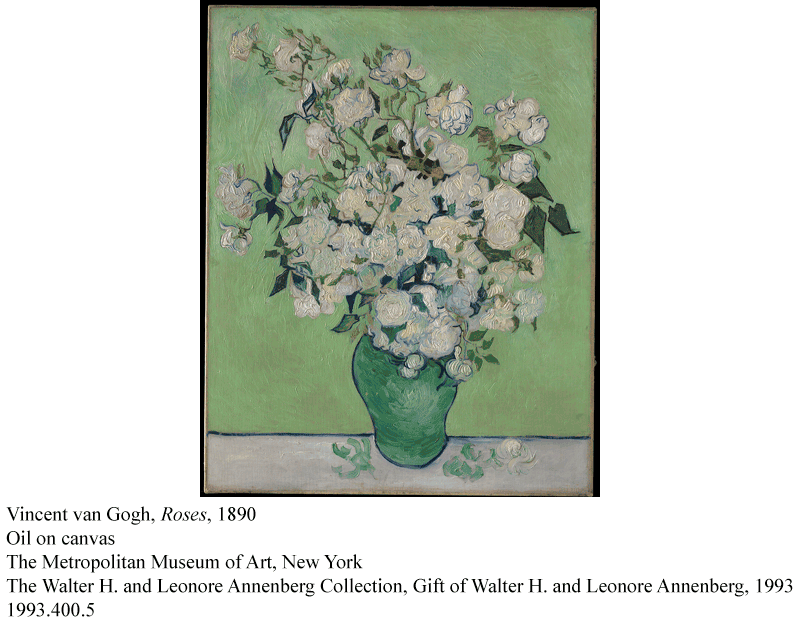 Known as Provence roses or cabbage roses, hybrid cultivars of Rosa × centifolia thrive in southeastern France, where they often bloom for six to eight weeks in the warmth of late spring and early summer. Provence roses are believed to have first appeared in the late sixteenth century as a cross between the rose 'Autumn Damask' and an alba rose. The large, globe-like flowers in shades of white and pink are notable for their fragrance and their many petals. In Van Gogh's 1890 paintings it is easy to see why this flower is often referred to as the "hundred-petaled" rose. Both white and pink Provence roses were cultivated in New Amsterdam beginning with the arrival of the Dutch in the seventeenth century.
Today, these roses can be found blooming in the Peggy Rockefeller Rose Garden at The New York Botanical Garden in May and June. Other standout roses from Van Gogh's time that can be found here include the musk rose (Rosa moschata), which dates to the Middle Ages and was likely grown in Provence when Van Gogh was there. Unusual varieties of tea roses that were developed by French rose hybridizers in Provence and Côte d'Azur will also bloom continuously from June through until fall's first frost.
Learn more about Van Gogh's nature-inspired paintings from The Metropolitan Museum of Art and be inspired to see this rare display while they are on view.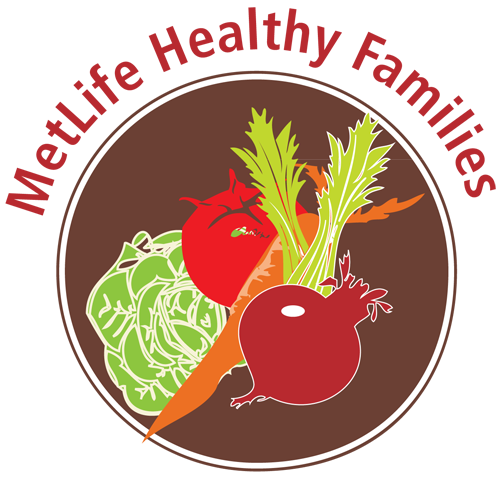 The Children's Gardening Program is a part of the MetLife Healthy Families Program at the Garden, made possible through the generous support of

The Edible Academy and programs in the Ruth Rea Howell Family Garden are supported by Bank of America, Mr. and Mrs. Coleman P. Burke, the Cleveland H. Dodge Foundation, Inc., Amy Goldman Fowler, Ph.D., The Goergen Foundation, Lillian Goldman Charitable Trust, Robert F. Gossett, Jr., Susan E. Lynch, the Institute of Museum and Library Services, Jill Joyce, Macy's, the Marion Moore Foundation, Inc., Morgan Stanley, The Mayor of New York City and the New York City Department of Cultural Affairs, the Speaker of the New York City Council and members of the Bronx Delegation of the New York City Council, New York State Assembly Speaker Carl E. Heastie and members of the Bronx Delegation of the State Assembly, New York State Senator Jeffrey D. Klein, Newman's Own Foundation, Stavros Niarchos Foundation, Norinchukin Foundation, Inc., Jill and Alan Rappaport Family, Phyllis and Howard Schwartz Philanthropic Fund, Kate Solomon and David Wasserman, Wallace Genetic Foundation, Mr. and Mrs. Charles M. Royce, Caroline A. Wamsler, Ph.D., and DeWayne N. Phillips, and Whole Foods Market®.
Additional leadership support for Children's Education Programs is provided by the Altman Foundation, an anonymous family friend of NYBG, Con Edison, Entergy Nuclear Northeast, The Everett Foundation, Eugene and Emily Grant Family Foundation, William Randolph Hearst Foundation, Mrs. Andrew Heiskell, Motorola Solutions Foundation, Newman's Own Foundation, The Palm Foundation, and The Walt Disney Company.
Edible Academy Kickstarter Donors $500+: Toby Adams, Amy Duff, Marie Gordon, Joanna Groarke, Sara Lowenthal, Linda O'Neill, Andy and Andrea Potash, Julie Sakellariadis, Ishween Sethi, Gordana Stjepanovic, and John and Maggie Zembruski.