Oral History: Ray Figueroa Jr.
Ray Figueroa Jr. Introduction
Ray Figueroa Jr. grew up in the 1960s in New York's historic East Harlem Puerto Rican community of El Barrio. Ray's earliest memories include the avocado plant his father grew from a seed on the windowsill of their apartment in the projects, and walking to "La Marqueta" to eat Puerto Rican comfort food like alcapurrias, empanadillas, and bacalaitos that weren't available at the supermarket. After significant time living in Puerto Rico with his grandmother, he attended Cornell University, double majoring in Africana Studies and Human Ecology, and began his lifelong commitment to community, working on food and gardening projects with organizations like Aspira and the Harlem Children's Zone. Today Ray serves as an urban agriculture consultant and advisor to foundations, government, non-profit organizations, and publications. He is on the Sustainable Environmental Systems faculty at the Pratt Institute Graduate Center for Planning and the Environment, and President of the New York City Community Garden Coalition, he is also co-founder and director of Alternatives-to-Incarceration initiatives at Friends of Brook Park, where youth on probation learn about social justice activism and work the land in ways that help reduce their risk of falling into the school-to-prison pipeline.
Interview Date: October 24, 2021
Profession: Instructor at The Pratt Institute, President of the New York City Garden Coalition and Community Organizer
Birthplace: East Harlem, New York City (El Barrio)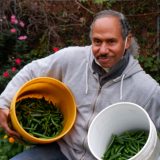 Ray Figueroa Jr.
Full Length Video