Celebrating community gardeners and farmers in the Bronx
Each year NYBG commissions two public murals celebrating Bronx gardeners and farmers featured in the Bronx Foodways Oral Histories Project. And in 2022, as part of our summer exhibition, Around the Table: Stories of the Foods We Love, we're working with Bronx muralist André Trenier to celebrate two beloved figures in the borough whose long-time commitment to supporting their communities with fresh food, refuge, and education has had a transformative effect on their neighborhoods.
Trenier's first completed mural for 2022 celebrates Karen Washington, a community leader and trailblazer who co-founded East Tremont's Garden of Happiness in the late 1980s, and later helped launch City Farms Market and the New York City Community Garden Coalition. Today Washington co-owns Rise & Root Farm in Chester, New York, and we're proud to have her serving on the NYBG Board.
The project's second mural, to be completed this summer, will highlight Abu Talib, co-founder of Taqwa Community Farm in the Highbridge neighborhood. Stay tuned!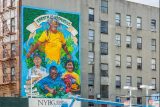 Located at 2157 Southern Boulevard and East 182nd Street, the first mural celebrates Karen Washington, her Garden of Happiness, and several of her urban gardening collaborators. The mural's location is provided by Phipps Houses, the oldest and largest not-for-profit developer, owner, and manager of affordable housing in New York City.
About André Trenier
André Trenier is a renowned Bronx-based artist and muralist, distinguished for his dozens of murals in the Bronx and other boroughs, which include works depicting sports legends Roberto Clemente, Satchel Paige and Mickey Mantle near Yankee Stadium; honoring Arthur Ashe and Billie Jean King near Forest Hills Stadium; and others portraying Jackie Robinson, Joe DiMaggio, and Muhammad Ali.
He also contributed a mural to the Take Care of Harlem series and a soulful piece on the Grand Concourse for the Bronx Museum. A graduate of LaGuardia High School in New York City and the University of the Arts in Philadelphia, Trenier perfected his spray painting techniques in Europe from 2009 to 2013, painting large walls in France and Spain, and competing in live art battles where he won special awards for his impromptu and collaborative work. Trenier is currently an Artist in Residence at the Andrew Freedman Home, an artists' center and event space in the Bronx, where he participates in community service programming for local residents while continuing to push the envelope of artistic expression.