Fellows, Scholars, & Interns 2023
Priscilla Aleman
Priscilla Aleman is a visual artist based in Miami and New York. Aleman graduated from Columbia University with her MFA in sculpture. Upon graduating she continued her art practice in Miami working with archaeologists conducting an intimate investigation of South Florida's relationship to the tropics and the Latin American landscape.
Bringing an understanding of past traditions in the Americas and its environmental history, Aleman crafts her own sanctified installations as deified monuments and memorials. Aleman's most recent solo exhibition at the Baxter St. Camera Club shows new works created during the YoungArts x Baxter St. Residency. She was recently commissioned by The New York Botanical Garden to create a public work for Around the Table, and later this year will be presenting a public art installation at Rockefeller Center New York. Aleman has exhibited in group shows at the Smithsonian American Art Museum and Upstate Art Weekend, among other venues. She has participated as Artist-in-Residence at Fountainhead, Lower Manhattan Cultural Council (LMCC), Bronx Museum, ICA Miami, and has received numerous awards including The Elizabeth Greenshield Foundation Fellowship, New York Foundation for the Arts City Artist Corp Grant, Miami Dade Art in Public Places Artist Access Grant, and is a U.S. Presidential Scholar in the Arts.
Project
During her field work at NYBG, Priscilla Aleman will retrace expeditions throughout the Caribbean and Latin America, using the LuEsther T. Mertz Library and Steere herbarium to research the historic and cultural significance of palm trees and other tropical food sources. As her research moves between regions, Aleman will be creating sculptural portraits of friends and colleagues using plaster, silicone molds, and collected tropical materials, to better understand the body's presence and ways of being, elevating community members through portraiture to study various social, agricultural, and energetic fields. By retracing food sources through regional, global, and cosmic history, she will chart ways we are interconnected. The resulting body of work will be an exchange between new and old world dreamscapes, and an homage to traditional sculpture and ancient symbolism. The works will culminate as a public and digital exhibition along with a panel discussion.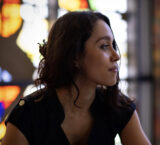 Mellon Research Fellows — Food Humanities
Justin Abraham Linds
Justin Abraham Linds earned his Ph.D. in American Studies in NYU's Social and Cultural Analysis department where he researched the relationship between plants and knowledge. His dissertation, "Noxious Rot: Fermenting Knowledge, Value, & History in the Early Modern Atlantic," examines how fermentation and rot were transformed in early America from a murky process connected to food-making and ritual to a value-making process associated with plantation commodity creation and the transatlantic slave trade.
Justin was a 2022-2023 fellow at the Center for the Humanities at NYU. His writing has appeared in Medical Humanities, The Journal of the History of Ideas, the Los Angeles Review of Books, and elsewhere. He holds an M.A. in English from York University and a B.A. from McGill University.
Project
At the NYBG, Justin will work with materials in the LuEsther T. Mertz Library and Archives to research the history of two plants and their different fermented states: manioc (especially in West Africa) and agave (especially in Mexico). He is also hoping to work with materials in the William and Lynda Steere Herbarium and connect with ethnobotanists at the garden who are also thinking about how plants influence the development of knowledge and society.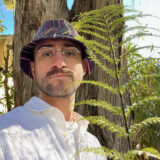 Khari Chanel Johnson
Khari Chanel Johnson is a Ph.D. student in the Department of Communication at the University of North Carolina at Chapel Hill where she researches commensality, womanism, and Black food joy. She theorizes care work and feminist praxis that center on Black women's lived experiences in the kitchen to think through questions of resistance and resilience.
She was a 2022–2023 Townsend Family Southern Futures Graduate Scholar and a Maynard Adams Fellow. Her writing has appeared in Digest: A Journal of Foodways & Culture. Her forthcoming book chapter about fried chicken, Black women, and the American Dream will be published by the University of Tennessee Press. She holds a B.A. in Communication from the University of California Los Angeles and a M.A. in Gastronomy from the University of Gastronomic Sciences in Italy.
Project
During her time at NYBG, Khari will work with the Humanities Institute's Bronx Foodways Oral History Project to explore the role of community gardens and urban farms as vital spaces of conviviality and community-building. She aims to work alongside community members and NYBG's Bronx Green-Up to highlight what it means to build community around shared food as an act of resistance to oppression.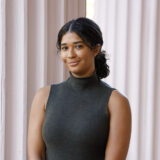 Urban Foodways Internship
Angel Tobar
Angel Tobar is an Urban Ag Farmer and Horticulturalist who puts community and passion at the forefront of his work. Starting his journey in July 2021, he made it his goal to become an earth guardian and to cultivate an environment that promotes healing, purpose, and connectivity. An advocate for social equity and communal wealth, Angel stives to empower others through education and land stewardship.
Angel is a recent graduate of Lehman College with a bachelor's in journalism and a minor business administration. Throughout his time at NYBG, he chose to study and conduct research on tobacco. He believes that kindness, hard work, perseverance, and passion are the characteristics that build the habits for a successful life and career. In the future, Angel will look to create an inclusive and equitable model in Ag-tech, so that other young people can have the opportunities that he did not have as a first-generation American.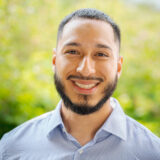 Layla Gee
Layla is a young African American woman from Brooklyn, New York. She is in her undergraduate degree studying dietetics, food, and nutrition where she aspires to be a dietitian. She is passionate about educating communities in nutrition and food justice in low income neighborhoods across NYC. Becoming a Bronx resident has transformed her to witness different experiences and has now influenced her to be more involved in being part of the solution.
Once she receives her masters degree, she will be able to have a greater influence on such communities by being an advocate for food justice and sharing knowledge to improve health disparities.
Layla is an active Urban Foodways intern at The New York Botanical Garden where she is developing knowledge in horticulture, contributing to plant research, while also visiting community gardens to deepen her appreciation for nature, food, and our relationship with the earth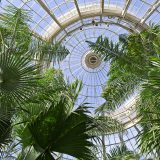 Danielle Cruz
Dani Cruz, 23, is a proud Boricua born and raised in The Bronx and a student attending Lehman College. Her passion for challenging herself, learning, and broadening her horizons landed her the position as an Urban Foodways Intern.
This opportunity has provided her with the perfect environment to expand on her love for science, food sovereignty, and social justice. As a young person of color, she's excited to be part of a generation of humans who are reclaiming their responsibility as land stewards. She's blessed to be healing generational wounds and cultivating community while improving her spiritual, mental, and physical health and wellness.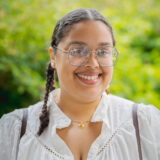 Michael Noi
Michael Noi, a West African native, is currently enrolled at Lehman College, pursuing a degree in Nutrition. During his internship, Michael had an enlightening experience exploring the relationship between plants and humans. Over the course of nine weeks, he gained valuable knowledge while actively participating in research projects related to plant biology and conservation.
Throughout his internship, Michael took on responsibilities that involved planting, weeding, watering, pruning, and maintaining the gardens to ensure they remained visually captivating and well-tended. Moreover, he conducted a research project centered on the mango plant, revealing fascinating and noteworthy facts about this unique species.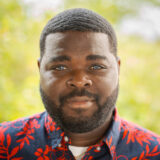 Nicole Rosas
Nicole is Peruvian-born and raised, and a CUNY student and team member in the ASAP program which helps students to accelerate their graduation, plus gives guidelines for students who need financial support. She will be graduating from Hostos Community College in December with an associate's degree in Liberal Arts and Science, to pursue the program Nutrition and Food Science in a four-year school.
As an Urban Foodways Intern, She's learned about the performance that The New York Botanical Garden takes part in the community, also foodways, gardening, and the community in general. Which is going to be valuable in my short and long-term steps in life.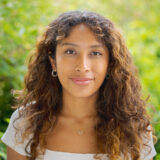 Armando Guzman Ramirez
Armando Guzman Ramirez is a dedicated individual with a keen interest in exercise science and a fascination with farming and land stewardship. Armando was born in the Dominican Republic, and his interest in exercising and improving physical well-being led him to major in Exercise Science. Aside from academia, he enjoys gardening and appreciates nature's serenity. This strong connection to the outdoors drives him to promote health and well-being through exercise science, with the goal of inspiring others to live better lifestyles while cultivating a deeper respect for nature.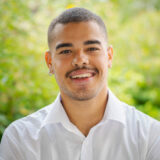 Allisson Garcia
Allisson Garcia is a student majoring in horticulture ornamental at Bronx community college. Allison's journey started from house plants to community gardens in Queens to the career field today. Now an urban foodways intern at NYBG, she has been expanding her skills in research and land stewardship. She is passionate about working with the land sustainably and is expanding her knowledge in horticulture.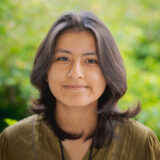 Jason Lopez
Jason is a Lehman College graduate with a BA in English and a minor in Business. His writing has primarily focused on literature analysis, but he is looking to expand his skillset and branch into professional writing.
Towards the end of his degree, while in the midst of analyzing Shakespeare or other works of literature, he'd often think to himself how removed his work felt from the realities of the world around him. As an Urban Foodways Intern, Jason learned about how much the New York Botanical Garden and nonprofits in general are reliant on good grant writing and philanthropy to maintain operations. It struck him as an opportunity to learn how to transition his writing skills from academic writing to creating impactful statements that can make a real difference in shaping the community around him.
In the Fall, Jason plans to take additional writing coursework to further hone his writing ability. He will also be taking trainings on proposal writing through the nonprofit Candid. Beyond that, he looks forward to exploring many paths in the next year before deciding on a track for graduate study.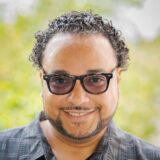 Bronx Oral Histories Interns
Ambar Johnson
Ambar Johnson is an M.A. student in Oral History at Columbia University. Her work examines identity, legacy, and intergenerational relationships across family systems through the lens of dis/connection. Ambar holds a B.S. in history, technology, and society, with a concentration in civil and environmental engineering from the Georgia Institute of Technology.
Prior to attending graduate school, Ambar worked for many years as an urban and transportation planner, stewarding and increasing access to greenways, parks, and open spaces while increasing multimodal transportation options across the U.S.
Tyresa Jackson
Tyresa Jackson is a recent graduate student at Teachers College, Columbia University. Prior to matriculating into Teachers College, she graduated from CUNY John Jay College of Criminal Justice with a Master of Public Administration (concentration: public policy with a specialization in law and administration).
Her scholarship has been accepted for publication in Overcoming Barriers for Women of Color in STEM Fields: Emerging Research and Opportunities, Academia Letters, and the Handbook of Research on Practices for Advancing Diversity and Inclusion in Higher Education.
Tyresa Jackson was a 2022–23 American Society for Public Administration (ASPA) Founders Fellow. Her research interests include literacy development, female participation in STEM education, human trafficking, and the scholarship of teaching and learning.