Oral History: Cayla Casciani & Aazam Otero
Cayla Casciani & Aazam Otero Introduction
Interview Date: September 11, 2022
Profession: Sexual Assault & Domestic Violence Counselor
Birthplace: Upstate New York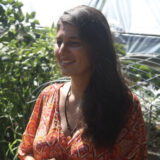 Originally from upstate New York, Cayla Casciani has lived in different places across North America–from the Pacific Northwest to Toronto and now the Bronx. The grandchild of Italian immigrants who kept backyard gardens, Cayla is no stranger to gardening and farming. Wherever she traveled, Cayla always had houseplants and, if possible, a garden to grow food. She is passionate about providing nutritionally dense greens and other foods grown in the garden to local Bronx residents. In addition, Cayla is a certified SA/DV counselor and has worked extensively in community organizing and alternate education spaces. She is also a talented mixed media artist, using wood, plants and other natural materials in her work.
Interview Date: September 11, 2022
Profession: Gardener and Activist
Birthplace: Bronx, New York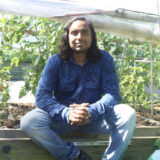 Aazam Otero was born and raised in the Bronx. Starting in high school, Aazam would help his family around the house, often by preparing meals. Meal preparation, learning to follow a recipe and experimenting with ingredients were all positive experiences for Aazam, however, like many other gardeners, he also witnessed the havoc wreaked by the city's planned disinvestment in his borough. This experience and the advent of the Iraq War both had profound impacts on Aazam's political involvement. As a college student, Aazam joined different political organizations, one of which was dedicated to a food co-op and farm. It was here that Aazam first encountered urban farms. Issues related to food security and access to green space continue to be important to him.
Cayla Casciani and Aazam Otero
Full Length Video