Explore the Edible Academy
The new campus includes many exceptional features, focusing on energy conservation, sustainability, and first-class education facilities. Explore the facilities of this brand-new campus.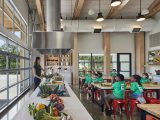 The Classroom Building features the Demonstration Kitchen Classroom, with capacity of up to 35 participants, Palm Family E.A.T. Lab, with capacity of up to 35 participants, and a Green Roof.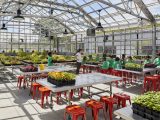 This teaching greenhouse provides an ideal space and controlled growing conditions for the propagation of thousands of seedlings throughout the year.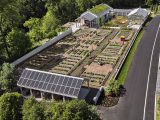 This open-air pavilion, featuring an array of photovoltaic panels to capture solar energy, is a gathering place for many of the Edible Academy's garden-based education lessons, with capacity of up to 54 participants.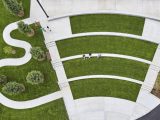 The Burke Amphitheater, with seating capacity of up to 350, featuring a terraced lawn and stage with the Bronx River and Thain Family Forest as a backdrop, hosts events, cooking demonstrations, and performances.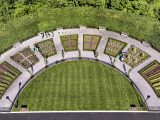 This collection of eight garden beds includes a combination of ornamental arrangements inspired by legendary English garden designer Rosemary Verey and the potager garden style, as well as traditional rows featuring varieties of particular crop groups. A long term crop rotation plan and companion planting techniques will promote a healthy garden.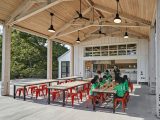 The Gossett Overlook Pavilion, situated adjacent to the Classroom Building, provides a dramatic view of the Bronx River waterfall and Thain Family Forest. Many of the Edible Academy's garden-based education lessons and cooking demonstrations take place in this open-air pavilion, with capacity of up to 72 participants.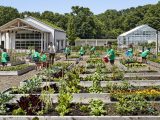 The Royce Family Meadow Garden features winding paths and a diverse palette of native perennial shrubs and herbaceous plants. It will attract beneficial insects and provide rich opportunities for participants in all Edible Academy programs to observe the important relationships between plants and animals.